!!!本公司所出售之BROOKS 產品全部原裝香港行貨, 請認清購買!!!
BROOKS Proofide 皮座保護油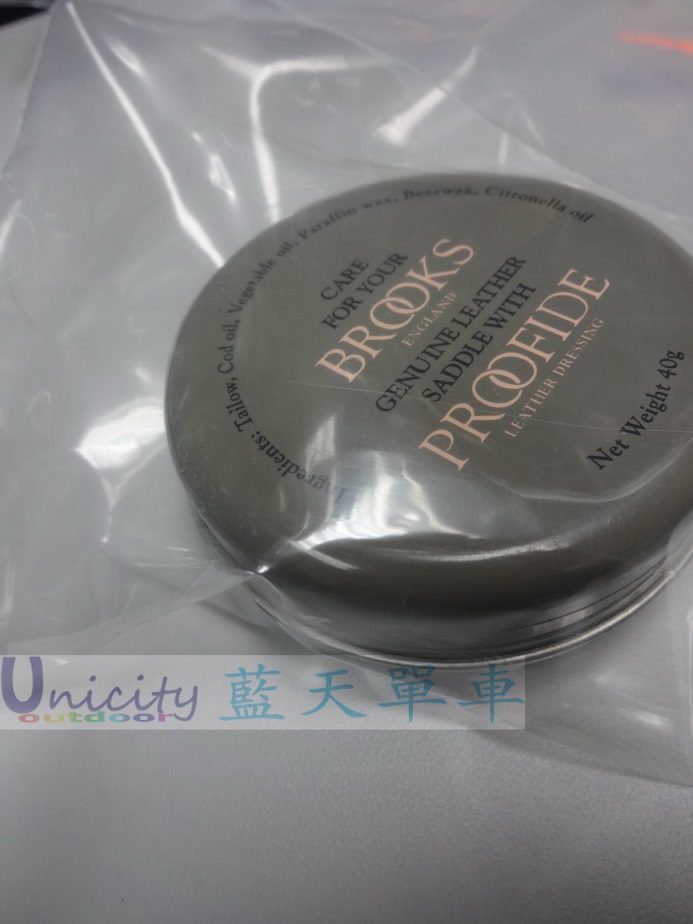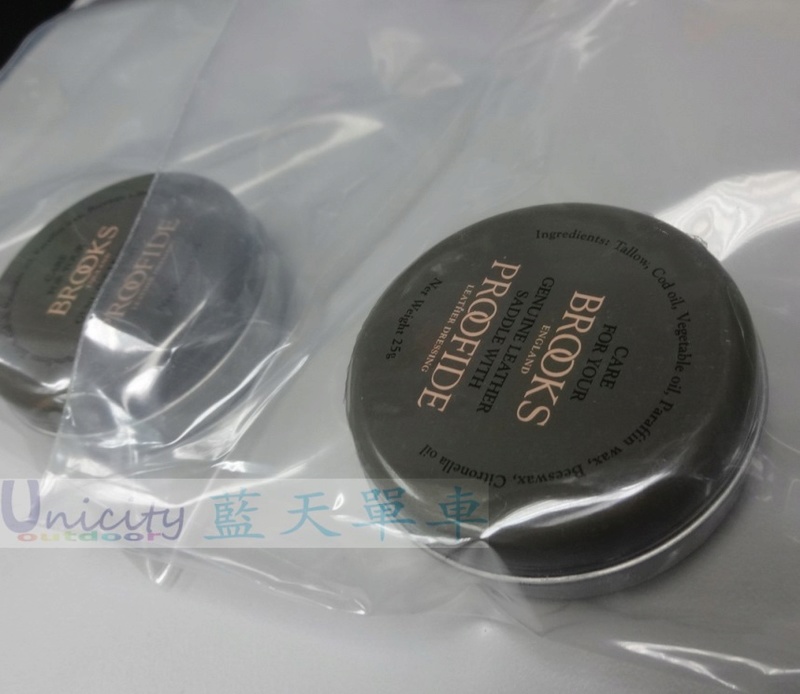 Details:
A new saddle should be treated with Brooks Proofide leather dressing to help assist the 'breaking-in' process. Proofide keeps the leather supple as it is specially formulated from natural ingredients to condition, preserve and shower proof your saddle. Proofide is the only substance that should be used to care for your Brooks Leather Saddle.
Apply a little Proofide to the finished side of the leather. Allow the Proofide to permeate until dry and then polish off. Proofide should be used several times during the 'breaking-in' period and every 3-6 months thereafter. On bicycles not fitted with mudguards, an initial application to the underside of the saddle will be beneficial, this needs not to be polished off. The leather gets its colour during the tanning process and it is possible, therefore, that some colour residues will remain. It is recommended to polish the saddle with a soft cloth before first use.
詳情可查閱BROOKS官方網頁:
[Only admins are allowed to see this link]
歡迎查詢及購買:
INQUIRE:
~ Whatsapp: (+852) 9886 4809
~ Tel. No.: (+852) 9886 4809 / (+852) 34809892
~ E-mail:
[Only admins are allowed to see this link]
*facebook 粉絲專頁:
~ 搜尋 "UnicityOutdoors" 或 "藍天單車", 點選 "相片" > "相簿", 選擇心儀貨品.
本公司主要出售以下品牌單車產品:
Rotor, Stages, Compagnolo, ENVE, SHIMANO, GARMIN, CATEYE, BROOKS, TOPEAK, Panaracer, GIANT, Pinarello, LOOK, Trek(Bontrager), Lezyne, ERGON, ALLAY, Super B, CHRIS KING, a2z, BnB Rack, TACX, LYNSKEY, MAVIC, EASTON, FINISHLINE, Zefal, KENDA, Odi, Schwalbe, Lizard Skins, MINUORA, Selle Italia, ELITE, GEMINI, Blackburn, SELLE ROYAL, Prologo, Giro, Kabuto(OGK), Bell, Crank Brothers, KASK, fi'zi:k, MKS, Lightweight, POC, Castelli,Lizard Skin and more….
及其他牌子單車配件出售未能盡錄. 所出售之產品均為原廠正貨並提供有條件一年保養(電池,損耗件及人為損壞除外,詳情請參考各原厰保養條款)。
交收方法:
DELIVERY:
1. 當所購貨品少於1kg或體積不超過30cm X 30cm X 30cm及總價超過HK$100(以單一訂單計)免費速遞送貨 (限於工商業區寫字樓), 貨到付款. 客人通過傳真或者Whatsapp落柯打確認, 收貨時付貨款給速遞即可,(請備現金). 一般情況收到柯打確認的第二個工作日客人會收到件貨.
超重或體積部分及非工商業區速遞附加費需由客人自負. (特區附加費及超重部分收費可參考http://ucasia.com.hk/tc/default.php?page=local ). 而我司發貨之前會與客人確認此部分費用.
We provide free delivery by courier to commercial estates within Hong Kong for goods ordered weight ≤1KG or volume not over 30x30x30cm and total amount ≥HK$100. Payment in cash COD (Collect On Delivery). Surcharge would be paid by the customer for non-commercial estates or remote areas whereas such kind of surcharge will be confirmed with the customer prior delivery. Goods will be delivered within one working day after the order is confirmed.
2. 地鐵站交收需約時間
Delivery at MTR stations by appointments.
3. 若郵寄或客人指定運輸公司費用需客人自理. 客人需先行入數, 2個工作天内安排寄出所購貨品.
Delivery by post or customer appointed logistic party could be arranged on customer cost. Delivery will be arranged upon the payment settled within 2 working days.
4. 辦公時間至下列地址參觀選購貨品
Shopping or Visit is welcome at our office at the following address during office hours.
***付款方法: 只收現金或銀行轉賬***
PAYMENT: CASH OR BANK TRANSFER ONLY.

公司地址COMPANY ADDRESS:



葵涌梨木道79號亞洲貿易中心2121室
Address: Unit 2121, Asia Trade Centre, No. 79 Lei Muk Road, Kwai Chung, Hong Kong
辦公時間: 星期一至六, 11:00am-19:30pm. 星期日及公眾假期休息
~ Office hours: 11:00am - 19:30pm, Monday to Saturdays.
~ Close: Sundays & Public Holidays.
Admin




Posts

: 372


Join date

: 2016-08-07




---
Permissions in this forum:
You
cannot
reply to topics in this forum